Answers in Prophecy: Beyond the Future (Ep. 10)
When it comes to God, "Happily Ever After" is a reality. It almost sounds too good to be true, but it's not. God has amazing and eternal things in store for all those who have placed their trust and faith in Him.
RECURSOS
Esta es tu oportunidad para dar a conocer a otros el ministerio Escrito Está. Ahora puedes adquirir camisetas para adultos con el logo del ministerio y nuestro versículo lema. Disponible en todas las tallas.
ACERCA DEL PRESENTADOR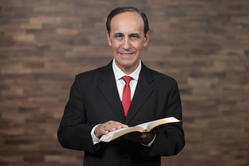 ROBERT COSTA es el director y orador de Escrito Está, un ministerio cristiano de comunicación que aborda verdades perennes y las aplica a la vida diaria. Te invitamos a navegar el sitio web de Escrito Está para que puedas escuchar nuestras presentaciones y descargar recursos bíblicos gratuitos.