Answers in Prophecy: Prophecies of Hope (Ep. 6)
The Bible's Old Testament contains hundreds of prophecies pointing to a single event: the first coming of Jesus. That coming 2,000 years ago is the most climactic event in earth's history so far. How we respond to it defines our lives.
RECURSOS
Lecciones sencillas que te guiarán, paso a paso, a una comprensión más profunda de la Palabra de Dios y su plan maravilloso para tu vida
ACERCA DEL PRESENTADOR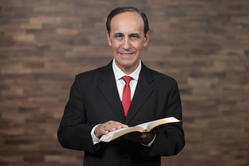 ROBERT COSTA es el director y orador de Escrito Está, un ministerio cristiano de comunicación que aborda verdades perennes y las aplica a la vida diaria. Te invitamos a navegar el sitio web de Escrito Está para que puedas escuchar nuestras presentaciones y descargar recursos bíblicos gratuitos.