Answers in Prophecy: Unlocking the Mysteries of Revelation (Ep. 4)
The book of Revelation is enshrouded in mystery. Yet with the right code, its mysteries can be decoded. Dig deep in the book of Revelation and discover its amazing message of hope and peace.
RECURSOS
Lecciones sencillas que te guiarán, paso a paso, a una comprensión más profunda de la Palabra de Dios y su plan maravilloso para tu vida
ACERCA DEL PRESENTADOR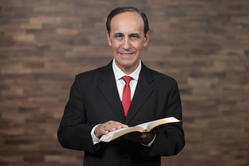 ROBERT COSTA es el director y orador de Escrito Está, un ministerio cristiano de comunicación que aborda verdades perennes y las aplica a la vida diaria. Te invitamos a navegar el sitio web de Escrito Está para que puedas escuchar nuestras presentaciones y descargar recursos bíblicos gratuitos.