"God Was So Cruel..."
Why did God do that?

"While their food was still in their mouths, the wrath of God came against them, and slew the stoutest of them, and struck down the choice men of Israel. In spite of this they still sinned, and did not believe in His wondrous works. Therefore their days He consumed in futility, and their years in fear. When He slew them, then they sought Him; and they returned and sought earnestly for God."
- Psalm 78:30-34
RECURSOS
Esta es tu oportunidad para dar a conocer a otros el ministerio Escrito Está. Ahora puedes adquirir camisetas para adultos con el logo del ministerio y nuestro versículo lema. Disponible en todas las tallas.
ACERCA DEL PRESENTADOR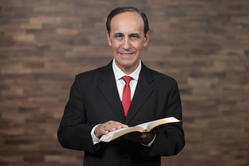 ROBERT COSTA es el director y orador de Escrito Está, un ministerio cristiano de comunicación que aborda verdades perennes y las aplica a la vida diaria. Te invitamos a navegar el sitio web de Escrito Está para que puedas escuchar nuestras presentaciones y descargar recursos bíblicos gratuitos.