Gifted!
That would be a misunderstanding...

"Having then gifts differing according to the grace that is given to us, let us use them: if prophecy, let us prophesy in proportion to our faith; or ministry, let us use it in our ministering; he who teaches, in teaching; he who exhorts, in exhortation; he who gives, with liberality; he who leads, with diligence; he who shows mercy, with cheerfulness."
- Romans 12:6-8
RECURSOS
Este paquete de 24 señaladores es el regalo perfecto para los estudiantes de la Biblia. Contiene referencias rápidas para tu estudio personal o en grupos pequeños. Cada señalador comienza con una breve historia y profundiza en temas como: ¿Por qué hay tantas iglesias? ¿Qué sucede después de la muerte? ¿Cómo podemos reconocer a un profeta verdadero? Adquiérelo hoy.
ACERCA DEL PRESENTADOR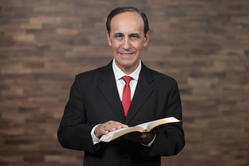 ROBERT COSTA es el director y orador de Escrito Está, un ministerio cristiano de comunicación que aborda verdades perennes y las aplica a la vida diaria. Te invitamos a navegar el sitio web de Escrito Está para que puedas escuchar nuestras presentaciones y descargar recursos bíblicos gratuitos.