Life a Chore?
You've got to give people room.

"For the Pharisees and all the Jews do not eat unless they wash their hands in a special way, holding the tradition of the elders. When they come from the marketplace, they do not eat unless they wash. And there are many other things which they have received and hold, like the washing of cups, pitchers, copper vessels, and couches."
- Mark 7:3-4
RECURSOS
Esta es tu oportunidad para dar a conocer a otros el ministerio Escrito Está. Ahora puedes adquirir camisetas para adultos con el logo del ministerio y nuestro versículo lema. Disponible en todas las tallas.
ACERCA DEL PRESENTADOR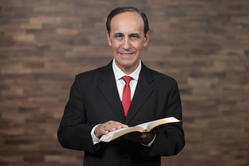 ROBERT COSTA es el director y orador de Escrito Está, un ministerio cristiano de comunicación que aborda verdades perennes y las aplica a la vida diaria. Te invitamos a navegar el sitio web de Escrito Está para que puedas escuchar nuestras presentaciones y descargar recursos bíblicos gratuitos.