What If You Really Knew?
He's strong enough.

"When you go out to battle against your enemies, and see horses and chariots and people more numerous than you, do not be afraid of them; for the Lord your God is with you, who brought you up from the land of Egypt. … For the Lord your God is He who goes with you, to fight for you against your enemies, to save you."
- Deuteronomy 20:1, 4
RECURSOS
Lecciones sencillas que te guiarán, paso a paso, a una comprensión más profunda de la Palabra de Dios y su plan maravilloso para tu vida
ACERCA DEL PRESENTADOR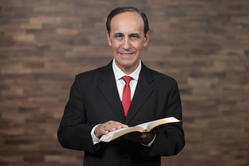 ROBERT COSTA es el director y orador de Escrito Está, un ministerio cristiano de comunicación que aborda verdades perennes y las aplica a la vida diaria. Te invitamos a navegar el sitio web de Escrito Está para que puedas escuchar nuestras presentaciones y descargar recursos bíblicos gratuitos.