In the Word - Don't Judge a Book
It has often been said that we should not judge a book by its cover. Yet how often do we judge people by appearances? Many "unlikely" people have come to faith in God—a number of whom are mentioned in the Bible. As we respond to the great commission given by Jesus, it's important that we see every person as a potential citizen of God's eternal kingdom.
RECURSOS
¿Es Dios un ser lejano para ti, o puedes tener la seguridad de su presencia aún en momentos des desánimo? Esta obra te hará comprender la gloria que fluye del trono de Dios y podrás ver cómo Dios puede iluminar tu corazón despejando las tinieblas de la duda e incertidumbre para traerte una luz de esperanza.
ACERCA DEL PRESENTADOR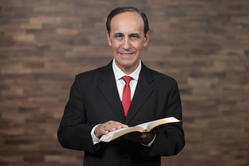 ROBERT COSTA es el director y orador de Escrito Está, un ministerio cristiano de comunicación que aborda verdades perennes y las aplica a la vida diaria. Te invitamos a navegar el sitio web de Escrito Está para que puedas escuchar nuestras presentaciones y descargar recursos bíblicos gratuitos.