In the Word - Free Fall
Both bridges were masterpieces of design and cost millions of dollars to build. But they collapsed, causing terrible damage and loss of life. Just as bridges are not supposed to fall, it isn't God's intention that Christians fall. So what happens when you do? Join Pastor John Bradshaw for an encouraging look at how God treats those who fail and fall.
RECURSOS
¿Es Dios un ser lejano para ti, o puedes tener la seguridad de su presencia aún en momentos des desánimo? Esta obra te hará comprender la gloria que fluye del trono de Dios y podrás ver cómo Dios puede iluminar tu corazón despejando las tinieblas de la duda e incertidumbre para traerte una luz de esperanza.
ACERCA DEL PRESENTADOR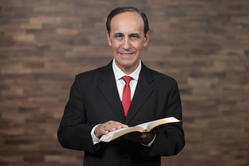 ROBERT COSTA es el director y orador de Escrito Está, un ministerio cristiano de comunicación que aborda verdades perennes y las aplica a la vida diaria. Te invitamos a navegar el sitio web de Escrito Está para que puedas escuchar nuestras presentaciones y descargar recursos bíblicos gratuitos.