In the Word - Remember Lot's Wife
Given every opportunity to flee to safety, Lot's wife turned back towards her home and turned into a pillar of salt. God still calls people to follow Him without looking back. What can we learn from the experience of Mrs. Lot and her family? And why did Jesus say, "Remember Lot's wife"?
RECURSOS
Esta es tu oportunidad para dar a conocer a otros el ministerio Escrito Está. Ahora puedes adquirir camisetas para adultos con el logo del ministerio y nuestro versículo lema. Disponible en todas las tallas.
ACERCA DEL PRESENTADOR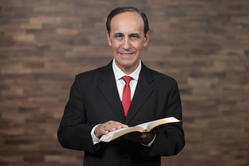 ROBERT COSTA es el director y orador de Escrito Está, un ministerio cristiano de comunicación que aborda verdades perennes y las aplica a la vida diaria. Te invitamos a navegar el sitio web de Escrito Está para que puedas escuchar nuestras presentaciones y descargar recursos bíblicos gratuitos.