In the Word - Three Important Steps
There is no denying that the world is in a state of crisis. Challenges like the coronavirus pandemic are a sign that we are moving towards earth's final days. Join John Bradshaw for "Three Important Steps" as he shares how we can have hope in these trying times and allow them to strengthen our relationship with God.
RECURSOS
Esta es tu oportunidad para dar a conocer a otros el ministerio Escrito Está. Ahora puedes adquirir camisetas para adultos con el logo del ministerio y nuestro versículo lema. Disponible en todas las tallas.
ACERCA DEL PRESENTADOR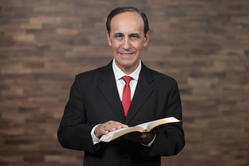 ROBERT COSTA es el director y orador de Escrito Está, un ministerio cristiano de comunicación que aborda verdades perennes y las aplica a la vida diaria. Te invitamos a navegar el sitio web de Escrito Está para que puedas escuchar nuestras presentaciones y descargar recursos bíblicos gratuitos.