In the Word - Three Strikes
The God of the Bible wants you to place great demands of Him, to ask for more and not less. And when you do, it will change your life forever!
RECURSOS
El relato de los Valdenses es uno de los más inspiradores de la historia. Y en esta serie de cinco partes, el pastor Robert Costa se enfocará en algunos héroes de la fe poco conocidos, cuyas vidas iluminaron algunos de los días más tenebrosos de la Edad Media.
ACERCA DEL PRESENTADOR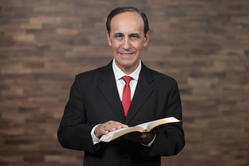 ROBERT COSTA es el director y orador de Escrito Está, un ministerio cristiano de comunicación que aborda verdades perennes y las aplica a la vida diaria. Te invitamos a navegar el sitio web de Escrito Está para que puedas escuchar nuestras presentaciones y descargar recursos bíblicos gratuitos.