IIW Classics - The Day the Cat Jumped
The Japanese attack on Pearl Harbor in 1941 came as a surprise, but there were warning signs. The Bible predicts Jesus' soon return, but many are ignoring the signs. Pastor George Vandeman shares how you can find salvation in Jesus and be ready when He comes to take you home.
RECURSOS
Lecciones sencillas que te guiarán, paso a paso, a una comprensión más profunda de la Palabra de Dios y su plan maravilloso para tu vida
ACERCA DEL PRESENTADOR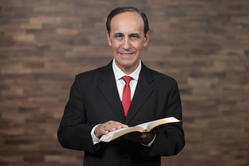 ROBERT COSTA es el director y orador de Escrito Está, un ministerio cristiano de comunicación que aborda verdades perennes y las aplica a la vida diaria. Te invitamos a navegar el sitio web de Escrito Está para que puedas escuchar nuestras presentaciones y descargar recursos bíblicos gratuitos.