500: A Lamp Unto My Feet
In rural England, a monument stands to one of the great heroes of the Reformation. He grew up far from the center of attention, but history remembers him as one of the giants. While others preached or developed doctrines, this man poured himself into translating and printing. His legacy? The Bible. Join John Bradshaw on location in England and explore the life of William Tyndale, the man who translated the Bible into English.
RECURSOS
Esta es tu oportunidad para dar a conocer a otros el ministerio Escrito Está. Ahora puedes adquirir camisetas para adultos con el logo del ministerio y nuestro versículo lema. Disponible en todas las tallas.
ACERCA DEL PRESENTADOR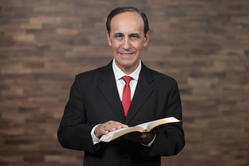 ROBERT COSTA es el director y orador de Escrito Está, un ministerio cristiano de comunicación que aborda verdades perennes y las aplica a la vida diaria. Te invitamos a navegar el sitio web de Escrito Está para que puedas escuchar nuestras presentaciones y descargar recursos bíblicos gratuitos.