500 - A Wall of Separation
Eventually the Protestant Reformation would drive the Puritans to not only separate themselves from the church by doctrine, but also by distance. The Pilgrims headed for the New World where freedom of conscience would take hold in a way not seen in any other civil experiment in human history. Join John Bradshaw on location in New England and discover how the Puritans shaped the cornerstones of the American experience and of the final stages of the Protestant Reformation. Features special guest Dr. Lincoln Steed.
RECURSOS
¿Es Dios un ser lejano para ti, o puedes tener la seguridad de su presencia aún en momentos des desánimo? Esta obra te hará comprender la gloria que fluye del trono de Dios y podrás ver cómo Dios puede iluminar tu corazón despejando las tinieblas de la duda e incertidumbre para traerte una luz de esperanza.
ACERCA DEL PRESENTADOR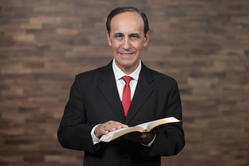 ROBERT COSTA es el director y orador de Escrito Está, un ministerio cristiano de comunicación que aborda verdades perennes y las aplica a la vida diaria. Te invitamos a navegar el sitio web de Escrito Está para que puedas escuchar nuestras presentaciones y descargar recursos bíblicos gratuitos.