500 - Finishing the Reformation
The most basic principle of the Protestant Reformation was the supreme authority of the Bible. And although William Miller and his followers were met with a great disappointment in 1844, God used them to put in place a global initiative to finish the Reformation. Join John Bradshaw on location in New England and learn about God's last day movement. Features special guest Dr. Ted Wilson.
RECURSOS
Esta es tu oportunidad para dar a conocer a otros el ministerio Escrito Está. Ahora puedes adquirir camisetas para adultos con el logo del ministerio y nuestro versículo lema. Disponible en todas las tallas.
ACERCA DEL PRESENTADOR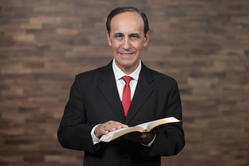 ROBERT COSTA es el director y orador de Escrito Está, un ministerio cristiano de comunicación que aborda verdades perennes y las aplica a la vida diaria. Te invitamos a navegar el sitio web de Escrito Está para que puedas escuchar nuestras presentaciones y descargar recursos bíblicos gratuitos.