500 - Tell It to the World
With America's achievement of independence from Great Britain in 1783, a series of events opened the way for an even clearer understanding of the Bible, and in particular, Bible prophecy. William Miller would be thrust into national spotlight for his study of prophecy and would begin a major shift in Christianity. Join John Bradshaw on location in New England and discover how William Miller's study of Bible prophecy shook the world. Features special guest Dr. Jud Lake.
RECURSOS
Lecciones sencillas que te guiarán, paso a paso, a una comprensión más profunda de la Palabra de Dios y su plan maravilloso para tu vida
ACERCA DEL PRESENTADOR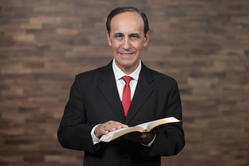 ROBERT COSTA es el director y orador de Escrito Está, un ministerio cristiano de comunicación que aborda verdades perennes y las aplica a la vida diaria. Te invitamos a navegar el sitio web de Escrito Está para que puedas escuchar nuestras presentaciones y descargar recursos bíblicos gratuitos.