500: The Counter-Reformation
As the Protest Reformation swept across Europe, it did not go unanswered by the Catholic Church it was opposing. The counter reformation, a strategy to press back against the advances of the Protestant Reformation, and the Jesuits would be a significant part of taking back influence that the church had lost. Join John Bradshaw on location in Europe and be encouraged by the faith of the Reformers in the face of fierce opposition. Features special guest Dr. Gerard Damsteegt.
RECURSOS
¿Es Dios un ser lejano para ti, o puedes tener la seguridad de su presencia aún en momentos des desánimo? Esta obra te hará comprender la gloria que fluye del trono de Dios y podrás ver cómo Dios puede iluminar tu corazón despejando las tinieblas de la duda e incertidumbre para traerte una luz de esperanza.
ACERCA DEL PRESENTADOR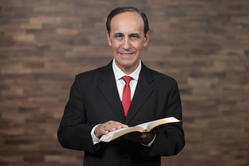 ROBERT COSTA es el director y orador de Escrito Está, un ministerio cristiano de comunicación que aborda verdades perennes y las aplica a la vida diaria. Te invitamos a navegar el sitio web de Escrito Está para que puedas escuchar nuestras presentaciones y descargar recursos bíblicos gratuitos.