500: "Here I Stand!"
In Wittenberg, Germany, on October 31, 1517, Martin Luther nailed his 95 Theses to the door of the castle church, and launched the movement known to history as the Protestant Reformation. The supremacy of the Bible, and the glorious truth of justification by faith in Jesus—Luther's two great passions—would light a fire for the gospel that changed the world. Millions of searching hearts would find the grace and peace that had inspired this courageous monk who dared to stand alone. Join John Bradshaw on location in Germany and follow in the footsteps of Martin Luther. Features special guest Dr. Leslie N. Pollard.
RECURSOS
Lecciones sencillas que te guiarán, paso a paso, a una comprensión más profunda de la Palabra de Dios y su plan maravilloso para tu vida
ACERCA DEL PRESENTADOR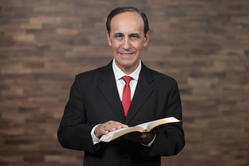 ROBERT COSTA es el director y orador de Escrito Está, un ministerio cristiano de comunicación que aborda verdades perennes y las aplica a la vida diaria. Te invitamos a navegar el sitio web de Escrito Está para que puedas escuchar nuestras presentaciones y descargar recursos bíblicos gratuitos.