500: The Celtic Connection
All around the world on March 17 every year, people celebrate him, without really knowing much about him. While St. Patrick is known globally, a few people understand that he was an enormously influential missionary who brought faith in Christ to the pagans of Ireland. So how did this small town man become a global icon? And how is he connected to the Reformation? Join John Bradshaw on location in Ireland and discover the truth about Saint Patrick. Features special guest Dr. David Trim.
RECURSOS
¿Es Dios un ser lejano para ti, o puedes tener la seguridad de su presencia aún en momentos des desánimo? Esta obra te hará comprender la gloria que fluye del trono de Dios y podrás ver cómo Dios puede iluminar tu corazón despejando las tinieblas de la duda e incertidumbre para traerte una luz de esperanza.
ACERCA DEL PRESENTADOR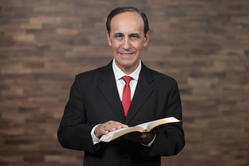 ROBERT COSTA es el director y orador de Escrito Está, un ministerio cristiano de comunicación que aborda verdades perennes y las aplica a la vida diaria. Te invitamos a navegar el sitio web de Escrito Está para que puedas escuchar nuestras presentaciones y descargar recursos bíblicos gratuitos.