500: The Reformation
In 1517, on October the 31st, a priest in a small town in Germany changed western civilization forever. As Martin Luther nailed his 95 theses to the Castle Church door, the Protestant Reformation began. Five hundred years later, is the Reformation over? Or is there still work to be done? Join John Bradshaw on location across Europe in the opening program of It Is Written's 500 series. Filmed on location in Ireland, the United Kingdom, Germany, and Rome. Features special guest Dr. Gerard Damsteegt.
RECURSOS
Esta es tu oportunidad para dar a conocer a otros el ministerio Escrito Está. Ahora puedes adquirir camisetas para adultos con el logo del ministerio y nuestro versículo lema. Disponible en todas las tallas.
ACERCA DEL PRESENTADOR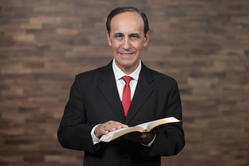 ROBERT COSTA es el director y orador de Escrito Está, un ministerio cristiano de comunicación que aborda verdades perennes y las aplica a la vida diaria. Te invitamos a navegar el sitio web de Escrito Está para que puedas escuchar nuestras presentaciones y descargar recursos bíblicos gratuitos.