Are Ghosts Real?
Pop culture is full of ghost stories—you've doubtless heard one or two yourself—but are ghosts truly the spirits of the dead? Join John Bradshaw as he highlights verses that show the truth behind this common deception and learn what the Bible says happens to people once they die.
RECURSOS
Lecciones sencillas que te guiarán, paso a paso, a una comprensión más profunda de la Palabra de Dios y su plan maravilloso para tu vida
ACERCA DEL PRESENTADOR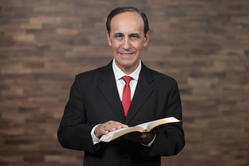 ROBERT COSTA es el director y orador de Escrito Está, un ministerio cristiano de comunicación que aborda verdades perennes y las aplica a la vida diaria. Te invitamos a navegar el sitio web de Escrito Está para que puedas escuchar nuestras presentaciones y descargar recursos bíblicos gratuitos.