Becoming A Smarter You
As humans, we are fearfully and wonderfully made, created by God to thrive. Incredibly, we make decisions and do things to our brains, our minds, that sometimes hold us back from thriving. But by the grace of God, there are those things that can reverse the damage and lift us up. Join Pastor John Bradshaw and special guest Dr. Neil Nedley, president of Nedley Health Solutions.
RECURSOS
El relato de los Valdenses es uno de los más inspiradores de la historia. Y en esta serie de cinco partes, el pastor Robert Costa se enfocará en algunos héroes de la fe poco conocidos, cuyas vidas iluminaron algunos de los días más tenebrosos de la Edad Media.
ACERCA DEL PRESENTADOR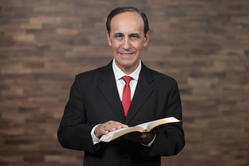 ROBERT COSTA es el director y orador de Escrito Está, un ministerio cristiano de comunicación que aborda verdades perennes y las aplica a la vida diaria. Te invitamos a navegar el sitio web de Escrito Está para que puedas escuchar nuestras presentaciones y descargar recursos bíblicos gratuitos.