Black Wall Street
In 1921, more than 300 people were massacred, thousands were left homeless, and an entire town was destroyed when people turned on their fellow citizens—in the United States of America. Which raises an important question: What kind of person would do that? The answer is surprising. Join Pastor John Bradshaw on location in Tulsa, Oklahoma, as we look at the challenge faced by every person: the sinful heart.
RECURSOS
Esta es tu oportunidad para dar a conocer a otros el ministerio Escrito Está. Ahora puedes adquirir camisetas para adultos con el logo del ministerio y nuestro versículo lema. Disponible en todas las tallas.
ACERCA DEL PRESENTADOR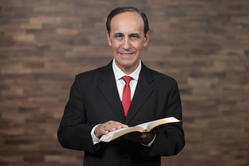 ROBERT COSTA es el director y orador de Escrito Está, un ministerio cristiano de comunicación que aborda verdades perennes y las aplica a la vida diaria. Te invitamos a navegar el sitio web de Escrito Está para que puedas escuchar nuestras presentaciones y descargar recursos bíblicos gratuitos.