Conspiracy, More Than Just a Theory: Area 51
It's one of the most mysterious places on the planet, shrouded in secrecy and said to be the home of UFOs and aliens. Locals say they've seen unexplainable phenomena. Is what happens at Area 51 part of a vast conspiracy? Join Pastor John Bradshaw on location in Nevada and learn about God's plan to keep you spiritually safe in the face of the greatest global conspiracy of them all.
RECURSOS
Esta es tu oportunidad para dar a conocer a otros el ministerio Escrito Está. Ahora puedes adquirir camisetas para adultos con el logo del ministerio y nuestro versículo lema. Disponible en todas las tallas.
ACERCA DEL PRESENTADOR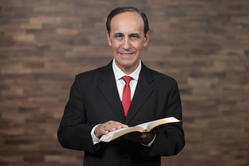 ROBERT COSTA es el director y orador de Escrito Está, un ministerio cristiano de comunicación que aborda verdades perennes y las aplica a la vida diaria. Te invitamos a navegar el sitio web de Escrito Está para que puedas escuchar nuestras presentaciones y descargar recursos bíblicos gratuitos.