Controlling Your Blood Pressure
It is called "the silent killer," and it affects people everywhere. More and more people are dealing with high blood pressure. Not only does it have the potential to kill, but it can also impair brain function and adversely affect quality of life. Join John Bradshaw and special guest Dr. David DeRose from CompassHealth Consulting as they discuss biblical health principles to combat high blood pressure.
RECURSOS
Esta es tu oportunidad para dar a conocer a otros el ministerio Escrito Está. Ahora puedes adquirir camisetas para adultos con el logo del ministerio y nuestro versículo lema. Disponible en todas las tallas.
ACERCA DEL PRESENTADOR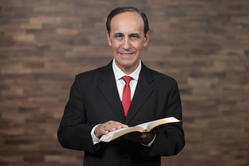 ROBERT COSTA es el director y orador de Escrito Está, un ministerio cristiano de comunicación que aborda verdades perennes y las aplica a la vida diaria. Te invitamos a navegar el sitio web de Escrito Está para que puedas escuchar nuestras presentaciones y descargar recursos bíblicos gratuitos.