Creation or Evolution
Many people today believe that overwhelming evidence supports the theory of evolution. They accept that their ancestors looked like apes. Can Bible believers confidently believe in the Creation story? Join John Bradshaw as he visits with Ken Ham, president of Answers in Genesis, a Creationist apologetics ministry that operates the Creation Museum.
RECURSOS
Esta es tu oportunidad para dar a conocer a otros el ministerio Escrito Está. Ahora puedes adquirir camisetas para adultos con el logo del ministerio y nuestro versículo lema. Disponible en todas las tallas.
ACERCA DEL PRESENTADOR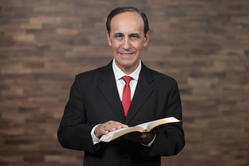 ROBERT COSTA es el director y orador de Escrito Está, un ministerio cristiano de comunicación que aborda verdades perennes y las aplica a la vida diaria. Te invitamos a navegar el sitio web de Escrito Está para que puedas escuchar nuestras presentaciones y descargar recursos bíblicos gratuitos.