David and Goliath
It's one of the great stories of the Bible. A shepherd boy and a fierce giant face off in an unlikely battle. That battle's unlikely result speaks to us today about faith, faithlessness, and the power of God in your life. Join John Bradshaw for "David and Goliath," filmed on location in Israel, and discover how the God who brought victory to David can bring victory into your experience.
RECURSOS
Esta es tu oportunidad para dar a conocer a otros el ministerio Escrito Está. Ahora puedes adquirir camisetas para adultos con el logo del ministerio y nuestro versículo lema. Disponible en todas las tallas.
ACERCA DEL PRESENTADOR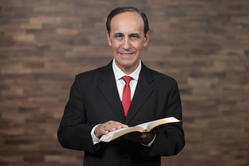 ROBERT COSTA es el director y orador de Escrito Está, un ministerio cristiano de comunicación que aborda verdades perennes y las aplica a la vida diaria. Te invitamos a navegar el sitio web de Escrito Está para que puedas escuchar nuestras presentaciones y descargar recursos bíblicos gratuitos.