Depression and Its Causes
It's probably safe to say that every American is affected by depression somehow—whether a person suffers from depression or has a friend or family member who does. But what, exactly, causes depression? Join Pastor John Bradshaw and Dr. Neil Nedley for the first program in a two-part series about this important topic.

*This program is presented for the purpose of educating people about health issues only and should not be used in place of the advice of your qualified health care provider. Please call your physician for any health care-related questions.
RECURSOS
Esta es tu oportunidad para dar a conocer a otros el ministerio Escrito Está. Ahora puedes adquirir camisetas para adultos con el logo del ministerio y nuestro versículo lema. Disponible en todas las tallas.
ACERCA DEL PRESENTADOR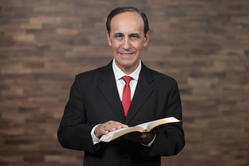 ROBERT COSTA es el director y orador de Escrito Está, un ministerio cristiano de comunicación que aborda verdades perennes y las aplica a la vida diaria. Te invitamos a navegar el sitio web de Escrito Está para que puedas escuchar nuestras presentaciones y descargar recursos bíblicos gratuitos.