Do You Believe in Miracles?
When the United States won against the Soviet Union in the 1980 Winter Olympics, they called it the "Miracle on Ice." But what exactly qualifies as a miracle? An unexpected win? The illusions of a magician? Join John Bradshaw as he looks at biblical and modern-day miracles, one of which you personally have a part in.
RECURSOS
Esta es tu oportunidad para dar a conocer a otros el ministerio Escrito Está. Ahora puedes adquirir camisetas para adultos con el logo del ministerio y nuestro versículo lema. Disponible en todas las tallas.
ACERCA DEL PRESENTADOR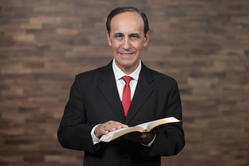 ROBERT COSTA es el director y orador de Escrito Está, un ministerio cristiano de comunicación que aborda verdades perennes y las aplica a la vida diaria. Te invitamos a navegar el sitio web de Escrito Está para que puedas escuchar nuestras presentaciones y descargar recursos bíblicos gratuitos.