Eyes for India
When Jesus was on Earth, He opened the eyes of the blind—a work that is still being carried out today. In this episode John Bradshaw travels to India to witness the life-changing effect of It Is Written's "Eyes for India" project. Join him and see how God is giving sight to the blind!
RECURSOS
¿Es Dios un ser lejano para ti, o puedes tener la seguridad de su presencia aún en momentos des desánimo? Esta obra te hará comprender la gloria que fluye del trono de Dios y podrás ver cómo Dios puede iluminar tu corazón despejando las tinieblas de la duda e incertidumbre para traerte una luz de esperanza.
ACERCA DEL PRESENTADOR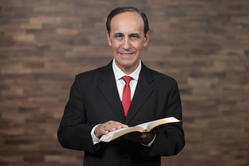 ROBERT COSTA es el director y orador de Escrito Está, un ministerio cristiano de comunicación que aborda verdades perennes y las aplica a la vida diaria. Te invitamos a navegar el sitio web de Escrito Está para que puedas escuchar nuestras presentaciones y descargar recursos bíblicos gratuitos.