Grateful
The Pilgrims came to America seeking freedom from religious persecution only to face another set of hardships in the New World. Still they chose to follow Paul's admonition to the Thessalonians: "In everything give thanks." Join John Bradshaw as he takes us back to the roots of the American Thanksgiving and shares how you too can be grateful in spite of difficult circumstances.
RECURSOS
Lecciones sencillas que te guiarán, paso a paso, a una comprensión más profunda de la Palabra de Dios y su plan maravilloso para tu vida
ACERCA DEL PRESENTADOR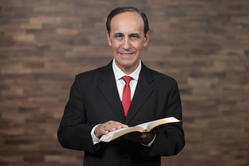 ROBERT COSTA es el director y orador de Escrito Está, un ministerio cristiano de comunicación que aborda verdades perennes y las aplica a la vida diaria. Te invitamos a navegar el sitio web de Escrito Está para que puedas escuchar nuestras presentaciones y descargar recursos bíblicos gratuitos.