Great Chapters of the Bible: Daniel 2
It has been called the master key to Bible prophecy. An ancient king had a remarkable dream, and its interpretation speaks of the rise and fall of nations and the Second Coming of Jesus. Join Pastor John Bradshaw for another episode in the ongoing series, "Great Chapters of the Bible," as he looks at Daniel chapter 2. History, prophecy, and hope in the God of heaven!
RECURSOS
Esta es tu oportunidad para dar a conocer a otros el ministerio Escrito Está. Ahora puedes adquirir camisetas para adultos con el logo del ministerio y nuestro versículo lema. Disponible en todas las tallas.
ACERCA DEL PRESENTADOR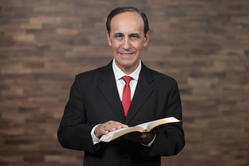 ROBERT COSTA es el director y orador de Escrito Está, un ministerio cristiano de comunicación que aborda verdades perennes y las aplica a la vida diaria. Te invitamos a navegar el sitio web de Escrito Está para que puedas escuchar nuestras presentaciones y descargar recursos bíblicos gratuitos.