Great Chapters of the Bible: John 3
"For God so loved the world, that He gave His only begotten Son" is one of the most well-known verses in the Bible. Join John Bradshaw in our ongoing series, "Great Chapters of the Bible," as he brings deeper meaning to this beloved verse by examining its context in John chapter 3.
RECURSOS
Esta es tu oportunidad para dar a conocer a otros el ministerio Escrito Está. Ahora puedes adquirir camisetas para adultos con el logo del ministerio y nuestro versículo lema. Disponible en todas las tallas.
ACERCA DEL PRESENTADOR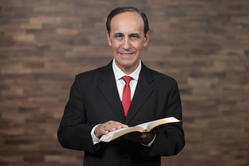 ROBERT COSTA es el director y orador de Escrito Está, un ministerio cristiano de comunicación que aborda verdades perennes y las aplica a la vida diaria. Te invitamos a navegar el sitio web de Escrito Está para que puedas escuchar nuestras presentaciones y descargar recursos bíblicos gratuitos.