Great Chapters of the Bible: John 6
In John chapter 6, Jesus feeds the five thousand, walks on water, and declares Himself to be "the bread of life." Join John Bradshaw as he explores this miraculous section of Scripture as part of our ongoing series, "Great Chapters of the Bible," and allow God's Word to enrich your life.
RECURSOS
Lecciones sencillas que te guiarán, paso a paso, a una comprensión más profunda de la Palabra de Dios y su plan maravilloso para tu vida
ACERCA DEL PRESENTADOR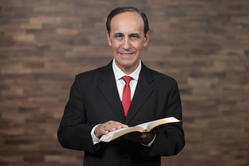 ROBERT COSTA es el director y orador de Escrito Está, un ministerio cristiano de comunicación que aborda verdades perennes y las aplica a la vida diaria. Te invitamos a navegar el sitio web de Escrito Está para que puedas escuchar nuestras presentaciones y descargar recursos bíblicos gratuitos.