Great Characters of the Bible: Jacob
Before becoming the father of a great nation, Jacob deceived his own father. In doing so, he set himself on a path filled with hardship. Yet, even at his lowest, Jacob held on to God. And God never let go of Jacob. Join John Bradshaw for another episode of "Great Characters of the Bible" and learn how the same God who blessed Jacob wants to bless you.
RECURSOS
Lecciones sencillas que te guiarán, paso a paso, a una comprensión más profunda de la Palabra de Dios y su plan maravilloso para tu vida
ACERCA DEL PRESENTADOR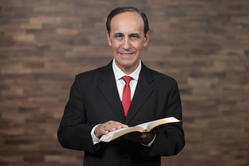 ROBERT COSTA es el director y orador de Escrito Está, un ministerio cristiano de comunicación que aborda verdades perennes y las aplica a la vida diaria. Te invitamos a navegar el sitio web de Escrito Está para que puedas escuchar nuestras presentaciones y descargar recursos bíblicos gratuitos.