Great Characters of the Bible: Samson
Samson disregarded his upbringing, wasted God-given opportunities, and squandered precious gifts. He fell prey to temptation time and time again—a struggle that is universal. Join John Bradshaw for the next episode in the series "Great Characters of the Bible" and learn of the importance of surrendering to God and how you can avoid going down the same road as Samson.
RECURSOS
Esta es tu oportunidad para dar a conocer a otros el ministerio Escrito Está. Ahora puedes adquirir camisetas para adultos con el logo del ministerio y nuestro versículo lema. Disponible en todas las tallas.
ACERCA DEL PRESENTADOR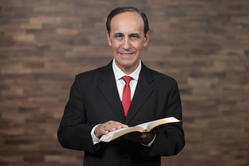 ROBERT COSTA es el director y orador de Escrito Está, un ministerio cristiano de comunicación que aborda verdades perennes y las aplica a la vida diaria. Te invitamos a navegar el sitio web de Escrito Está para que puedas escuchar nuestras presentaciones y descargar recursos bíblicos gratuitos.