Great Characters of the Bible: Noah
Commissioned by God to save the human family, Noah stands as a striking example of faith in a faithless world. Learn how Noah's experience illuminates our own in the next episode of "Great Characters of the Bible." When the world had reached its lowest point, God turned to Noah, who built an ark in a world where rain had never fallen.
RECURSOS
El relato de los Valdenses es uno de los más inspiradores de la historia. Y en esta serie de cinco partes, el pastor Robert Costa se enfocará en algunos héroes de la fe poco conocidos, cuyas vidas iluminaron algunos de los días más tenebrosos de la Edad Media.
ACERCA DEL PRESENTADOR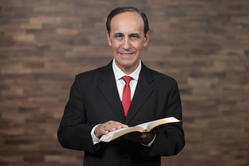 ROBERT COSTA es el director y orador de Escrito Está, un ministerio cristiano de comunicación que aborda verdades perennes y las aplica a la vida diaria. Te invitamos a navegar el sitio web de Escrito Está para que puedas escuchar nuestras presentaciones y descargar recursos bíblicos gratuitos.