History Repeats: Persecution and the Early Church
The Roman emperor Diocletian was responsible for what has been described as the worst period of persecution in the history of the Christian church—persecution so intense it is mentioned in the book of Revelation. Persecution will again shake the church, and God wants you to be ready for that time. Join Pastor John Bradshaw on location in Split, Croatia, the site of Diocletian's famed summer palace, for "History Repeats."
RECURSOS
Lecciones sencillas que te guiarán, paso a paso, a una comprensión más profunda de la Palabra de Dios y su plan maravilloso para tu vida
ACERCA DEL PRESENTADOR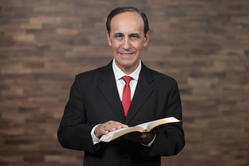 ROBERT COSTA es el director y orador de Escrito Está, un ministerio cristiano de comunicación que aborda verdades perennes y las aplica a la vida diaria. Te invitamos a navegar el sitio web de Escrito Está para que puedas escuchar nuestras presentaciones y descargar recursos bíblicos gratuitos.