"I Shall Return"
In his famous speech, General Douglas MacArthur boldly declared, "I shall return." Having left the Japanese-occupied Philippines, MacArthur's words brought hope to a captive people. Two thousand years earlier, Jesus made the same promise to a world held captive in sin: "I will come again!" Join Pastor John Bradshaw on location on Corregidor Island in the Philippines and learn what the Bible says about the Second Coming of Jesus.
RECURSOS
Este paquete de 24 señaladores es el regalo perfecto para los estudiantes de la Biblia. Contiene referencias rápidas para tu estudio personal o en grupos pequeños. Cada señalador comienza con una breve historia y profundiza en temas como: ¿Por qué hay tantas iglesias? ¿Qué sucede después de la muerte? ¿Cómo podemos reconocer a un profeta verdadero? Adquiérelo hoy.
ACERCA DEL PRESENTADOR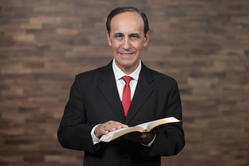 ROBERT COSTA es el director y orador de Escrito Está, un ministerio cristiano de comunicación que aborda verdades perennes y las aplica a la vida diaria. Te invitamos a navegar el sitio web de Escrito Está para que puedas escuchar nuestras presentaciones y descargar recursos bíblicos gratuitos.