Prequel of the Bible: Part 1 - The Selfishness Paradigm
The Bible tells us that God is love. But if the God of love created the earth and everything in it, how did the world come to operate on principles so inconsistent with His character? Join John Bradshaw in the first of a five-part series as he unravels the disparity between who God says He is and the nature of the world around us.
RECURSOS
El relato de los Valdenses es uno de los más inspiradores de la historia. Y en esta serie de cinco partes, el pastor Robert Costa se enfocará en algunos héroes de la fe poco conocidos, cuyas vidas iluminaron algunos de los días más tenebrosos de la Edad Media.
ACERCA DEL PRESENTADOR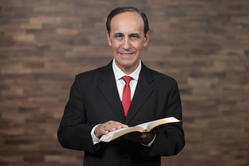 ROBERT COSTA es el director y orador de Escrito Está, un ministerio cristiano de comunicación que aborda verdades perennes y las aplica a la vida diaria. Te invitamos a navegar el sitio web de Escrito Está para que puedas escuchar nuestras presentaciones y descargar recursos bíblicos gratuitos.