Prequel of the Bible: Part 4 - Earth's Rapid Decline
The story is hidden in plain sight, the effects of a long-running spiritual battle made evident. Planet Earth groans under the weight of sin, and its oceans, atmosphere, agriculture, and more are threatened for reasons many people are not considering. Join John Bradshaw for "Prequel of the Bible: Earth's Rapid Decline."
RECURSOS
Lecciones sencillas que te guiarán, paso a paso, a una comprensión más profunda de la Palabra de Dios y su plan maravilloso para tu vida
ACERCA DEL PRESENTADOR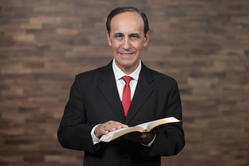 ROBERT COSTA es el director y orador de Escrito Está, un ministerio cristiano de comunicación que aborda verdades perennes y las aplica a la vida diaria. Te invitamos a navegar el sitio web de Escrito Está para que puedas escuchar nuestras presentaciones y descargar recursos bíblicos gratuitos.