That I May Receive My Sight!
Fifteen million people in India live with blindness. One man is doing all he can to change that. Join John Bradshaw on location in India and meet the man behind Eyes for India, It Is Written's life-altering initiative giving sight to the blind. Be inspired as you meet people whose lives have been changed by the blessing of God and the commitment of a dedicated team determined to help the helpless.
RECURSOS
Lecciones sencillas que te guiarán, paso a paso, a una comprensión más profunda de la Palabra de Dios y su plan maravilloso para tu vida
ACERCA DEL PRESENTADOR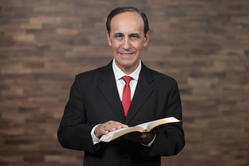 ROBERT COSTA es el director y orador de Escrito Está, un ministerio cristiano de comunicación que aborda verdades perennes y las aplica a la vida diaria. Te invitamos a navegar el sitio web de Escrito Está para que puedas escuchar nuestras presentaciones y descargar recursos bíblicos gratuitos.