Kingdom Come
Babylon, Medo-Persia, Greece, Rome—all great civilizations whose power and influence have been reduced to rubble over the centuries. But the Bible speaks of a kingdom that won't fade with time. Join John Bradshaw as he looks at the prophecies of Daniel, and learn how the progression and trajectory of history speak to the soon return of Jesus and a kingdom that will last forever.
RECURSOS
Lecciones sencillas que te guiarán, paso a paso, a una comprensión más profunda de la Palabra de Dios y su plan maravilloso para tu vida
ACERCA DEL PRESENTADOR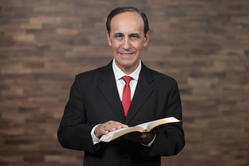 ROBERT COSTA es el director y orador de Escrito Está, un ministerio cristiano de comunicación que aborda verdades perennes y las aplica a la vida diaria. Te invitamos a navegar el sitio web de Escrito Está para que puedas escuchar nuestras presentaciones y descargar recursos bíblicos gratuitos.