The Unfair Judge
The parable of the unjust judge, sometimes referred to as the story of the importunate widow, features a certain judge that dismisses a woman's plea for justice. What lesson could Jesus be trying to teach us in a story about an unethical judge who has no time for God? Part of the It Is Written series on the parables of Jesus: "Lessons for All Time."
RECURSOS
Lecciones sencillas que te guiarán, paso a paso, a una comprensión más profunda de la Palabra de Dios y su plan maravilloso para tu vida
ACERCA DEL PRESENTADOR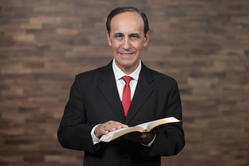 ROBERT COSTA es el director y orador de Escrito Está, un ministerio cristiano de comunicación que aborda verdades perennes y las aplica a la vida diaria. Te invitamos a navegar el sitio web de Escrito Está para que puedas escuchar nuestras presentaciones y descargar recursos bíblicos gratuitos.