Life and Longevity
Caffeine, Botox, and forgiveness. You might think that these three have nothing in common, but you'll learn otherwise as Pastor John Bradshaw and special guest, Dr. David DeRose, delve into DeRose's latest book, "The Methuselah Factor." Join them as they provide some shocking revelations and simple yet effective ways to address some of today's most challenging health issues.
RECURSOS
Esta es tu oportunidad para dar a conocer a otros el ministerio Escrito Está. Ahora puedes adquirir camisetas para adultos con el logo del ministerio y nuestro versículo lema. Disponible en todas las tallas.
ACERCA DEL PRESENTADOR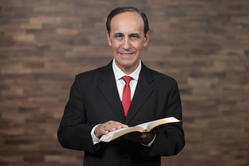 ROBERT COSTA es el director y orador de Escrito Está, un ministerio cristiano de comunicación que aborda verdades perennes y las aplica a la vida diaria. Te invitamos a navegar el sitio web de Escrito Está para que puedas escuchar nuestras presentaciones y descargar recursos bíblicos gratuitos.