Money, Money, Money
Even though you can't live without it, having it can bring all kinds of complications. The Bible speaks more about money than almost any other subject. In "Money, Money, Money" you'll find out how you can prevent what God intended to be a blessing from becoming a curse. Make solid spiritual decisions regarding your finances. Join Pastor John Bradshaw and special guest Julian Archer to learn how to handle money to the glory of God.
RECURSOS
Lecciones sencillas que te guiarán, paso a paso, a una comprensión más profunda de la Palabra de Dios y su plan maravilloso para tu vida
ACERCA DEL PRESENTADOR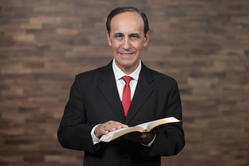 ROBERT COSTA es el director y orador de Escrito Está, un ministerio cristiano de comunicación que aborda verdades perennes y las aplica a la vida diaria. Te invitamos a navegar el sitio web de Escrito Está para que puedas escuchar nuestras presentaciones y descargar recursos bíblicos gratuitos.