Predictions You Can Trust
In a world full of skeptics and conspiracy theorists, predictions of the end of the world are commonplace. But more often than not, these theories and prophecies are insubstantial, or even false! For predictions you can trust, look to the Bible. John Bradshaw shares how God's Word has proven itself true time and time again.

RECURSOS
Lecciones sencillas que te guiarán, paso a paso, a una comprensión más profunda de la Palabra de Dios y su plan maravilloso para tu vida
ACERCA DEL PRESENTADOR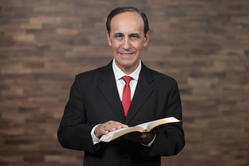 ROBERT COSTA es el director y orador de Escrito Está, un ministerio cristiano de comunicación que aborda verdades perennes y las aplica a la vida diaria. Te invitamos a navegar el sitio web de Escrito Está para que puedas escuchar nuestras presentaciones y descargar recursos bíblicos gratuitos.