Risk Factors
The Bible says our bodies are wonderfully made. But in today's affluent society, there are risk factors that threaten our health. Thousands are dying each year in this country due to lifestyle diseases such as heart attack, stroke, cancer and more. Is there a solution to this epidemic? *This program is presented for the purpose of educating people about health issues only and should not be used in place of the advice of your qualified health care provider. Please call your physician for any health care-related questions.
RECURSOS
El relato de los Valdenses es uno de los más inspiradores de la historia. Y en esta serie de cinco partes, el pastor Robert Costa se enfocará en algunos héroes de la fe poco conocidos, cuyas vidas iluminaron algunos de los días más tenebrosos de la Edad Media.
ACERCA DEL PRESENTADOR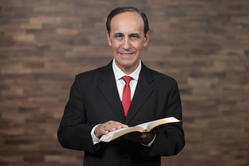 ROBERT COSTA es el director y orador de Escrito Está, un ministerio cristiano de comunicación que aborda verdades perennes y las aplica a la vida diaria. Te invitamos a navegar el sitio web de Escrito Está para que puedas escuchar nuestras presentaciones y descargar recursos bíblicos gratuitos.