That I May Receive My Sight
India is home to 15 million blind people. Most of the blindness is due to cataracts—which is treatable and preventable. Join John Bradshaw on location in Jalandhar, India, and discover how one dedicated physician is changing lives through It Is Written's Eyes for India project.
RECURSOS
Lecciones sencillas que te guiarán, paso a paso, a una comprensión más profunda de la Palabra de Dios y su plan maravilloso para tu vida
ACERCA DEL PRESENTADOR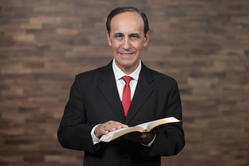 ROBERT COSTA es el director y orador de Escrito Está, un ministerio cristiano de comunicación que aborda verdades perennes y las aplica a la vida diaria. Te invitamos a navegar el sitio web de Escrito Está para que puedas escuchar nuestras presentaciones y descargar recursos bíblicos gratuitos.